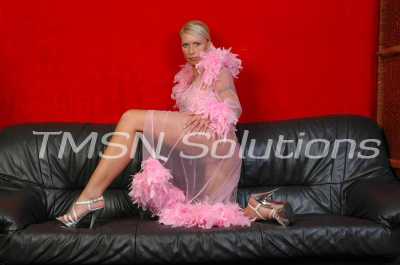 There once was a pathetic little man who dreamt of becoming a feminine sissy boy! 
 He was so obsessed with his desire that he spend many hours with his nose buried in Victoria's Secret Catalogues.  The pathetic little man so wanted to transform himself into the most perfect pretty sissy boy…the only problem was he didn't know how!
One afternoon while knee deep in his transformation fantasy there was a knock at his door. To his delight his neighbor Goddess Eve had come to visit. Â Oh how he envied Her beauty and so wanted to be like Her however he was afraid to tell Her his secret.
He was so excited to see Goddess Eve that he forgot to hide his obsession and now his secret was all over the living room floor for Her to discover.  She smiled and said come on lets go shopping.  It's time we made you over and turned you into a perfect feminine sissy boy.
So off to Victoria's Secret they went.
The pathetic little man was shaking from head to toe as they walked across the threshold into the sissy wonderland! 
Ah…did you want it hear how of Goddess Eve's sissy phonesex fantasy ends? you will have to pick up the phone won't you sissy boy!
Goddess Eve
866-535-7625
https://sissyphonefantasy.com/eve.html