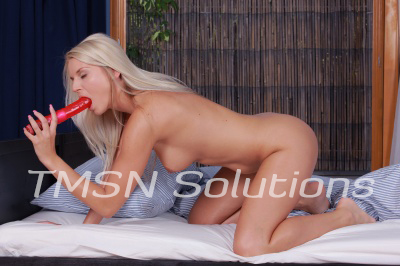 Phonesex with Felicity 1844-332-2639 x 270
I want to tell you about a good little slut of mine who's making her dreams come true! She started calling me a while back and had all of these fantasies she was afraid to fulfill. So we started slowly by adding toys and, of course, panties. This girl dreamed of BBC, as we all do, right? She wanted to serve them like a good girl, but her wife wasn't really feeling it.
So with me, she bought a pretty pair of panties that said, "I love BBC," and a thick black dildo to practice on. I'm so proud of how this slut made her dreams come true because she actually reached out to a hot guy, and he'd been feeding her cock on the down-low.
Slut Dreams Come True
Now, as any sneaky slut who obeys her mistress and does dangerously sexy things, she didn't hide her panties ever well, and her wife found them! Lucky, this girl is a quick thinker! She reminded her wife that she had wanted to see her fuck BBC and bought the panties for her. She didn't mention if they were clean or not, but I know she wore them for her bull that weekend, so it thrilled me to think of her wife pulling on a pair of cum stained BBC loving panties!
As her wife modeled them for my slut, the wifey admitted to wanting black cock too! Again, this slut is smart! She pulled out that fat black dildo and told her wife she'd also bought it for her. Her horny wife spread her legs and begged to be fucked with that bigger, blacker cock, and my slut gave it to her good!
My sneaky slut said she was so turned on watching her wife strain to fit that massive cock in her pussy. It really was a sexy, slutty dream come true!
Phonesex with Felicity 1844-332-2639 x 270