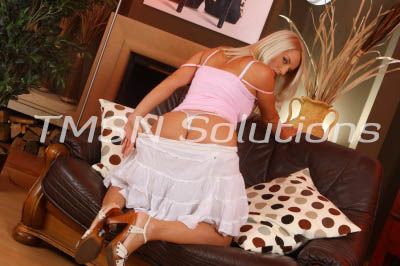 Phonesex with Felicity 1844-332-2639 x 270  
You blew in through my door like a tornado. All mouthy and dressed like a man. Trying to boss me around and tell me what was what. Well, Momma doesn't play that game, honey. You aren't gonna sass me, mister. Get out of that suit and tie! We're gonna put you in your place.
I think I'll take off this white skirt and put it on you. I'm sure you're ass will look delicious in it. I know I'm gonna love flipping it up over your back while I spank your pale ass with my ballet flat.
Sweet Sass Ass
What? You've never been spanked with a ballet flat before? Well, now's as good a time as any. Hold those fake titties of yours and get ready for your spanking.
Mommy doesn't like it when Sissies try to act like real men. Everyone who meets you knows that you aren't really a man but a fake little sissy, sass bitch. One who gets bent over, spanked, and pegged hard!
Now that you know what's coming for you, how do you feel now? Still, think you're a big bad man who can tell me what to do? Yeah, I didn't think so. Bend the fuck over.
Phonesex with Felicity 1844-332-2639 x 270
https://sinfulmilfphonesex.com/