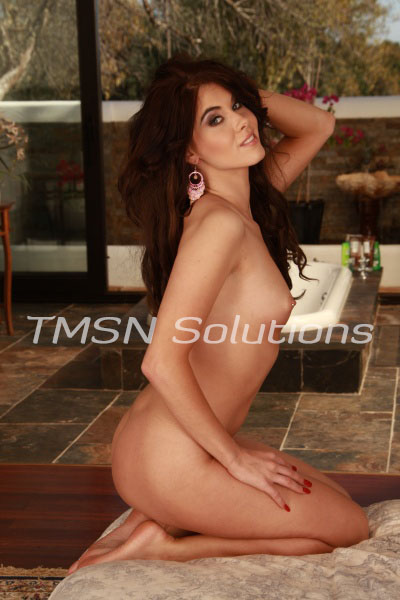 Mistress Collette — 1-844-332-2639 ext 383
Good morning, my slut (or good evening),
I hope you're having a fabulous day so far.  Tell me, how does that pink thong feel?  Is it riding up the crack of your ass? What about the bra, is it getting too uncomfortable already?  Is your ass sore from the strap on surprise I gave you last night?  Just FYI, I have got a big day planned for you. If you thought I was insatiable this morning, you haven't seen anything yet.
Just to let you know, the reason I made you completely undress right when you were on your way out is simple.  I simply did not want you to feel at all like a man today.  Today I wanted you to feel like my sissy whore.  My slut.
I loved stripping you down and then making you put on that bright pink thong.  You were shaking already.  Your cock was huge, bulging.
Already dripping precum.
Just a few days out of the cock cage, and you can't go five minutes without a hard-on!  Let me break the news to you are going to have a long day…
And the bra, you look absolutely ridiculous in that bra.  Making you spin around and show off is the best part.  I know how much it humiliates you, yet I am lounging there on the bed in my silk cami, running my fingers up and down my thighs, smiling at you. Making you bend over so I can see the pink thong ride up your ass. Make you spread your ass cheeks for me and shake them for show, all while I start slowly teasing my pussy, sliding just one finger only barely inside me. This is all just a little preparation for the long day I have planned for you.
BEND OVER SLUT
Please keep in mind, you will not get much work done today.  And to make things easy for you, I have arranged your orders and tasks into a very precise list, including the times that the activities must happen and what exactly you must do. You will call me regularly so that I can check on you, and you never know when I might demand photographic proof.  So clear your calendar, sissy whore, and get that tight pussy hole ready.
TODAY…..You are my office whore all day long.
Mistress Collette — 1-844-332-2639   ext 383
http://www.sissyphonefantasy.com/collette/
http://www.sinfullysexyphonesex.com/collette/