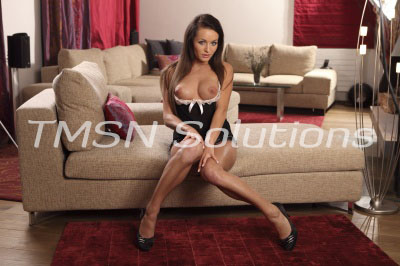 Sinful Serinda 844-33-CANDY (844-332-2639), ext. 394
So here I was – I had in my employ a sissy that eagerly and vigorously could suck her own clitty.  Naturally, she loved being watched and gawked at, and was more than eager to help me earn a little bit of money.  So what better way to make some money than start a sissy cam show, right?  I had her register on one of those cam sites where the boys watch and tip.  Then I got her setup with a nice camera and mic.  After that, it was lights, camera, action!
My sissy had spent a few days limbering up.  Doing lots of stretches to make sure she could suck herself off for an extended period of time, without assistance.  I sat on the sidelines and watched as she brought herself online and waited for the boys to fill in.  It didn't take long, she was all dolled up and looked extra slutty.  She stroked herself for a bit to get the audience all riled up, but even she couldn't resist her own deviant urges.  Before long, she was on her back, her hips in the air, and her clitty being sucked into her awaiting mouth.
She kept up the sissy cam show until she couldn't hold back any longer.
After this, the tips started rolling in!  We were raking it in, everyone was cheering her on as she suckled and stroked at herself.  I applauded from the sidelines, thinking of how I would display her sluttiness to the world next.  Maybe I'd have her stretching her hole for the audience next?  Either way, she kept up the sissy cam show until she couldn't hold back any longer.  The room exploded in a frenzy as she milked her own delicious cum into her mouth, slurping up every bit like a good little whore.  Was a shame the show had to end so soon, but with training, she'll be able to keep it up for longer I'm sure.
And hey!  You may want to check out my own site that I have linked below for an update on the Fall Pantie Contest!  I'll be detailing the theme and will be starting accepting submissions by the time you read my update over there!  So get those panties ready!
Serinda
844-33-CANDY
(844-332-2639)
ext 394
http://nawtytwistedphonesex.com/
http://www.phonesexcandy.com/serinda/