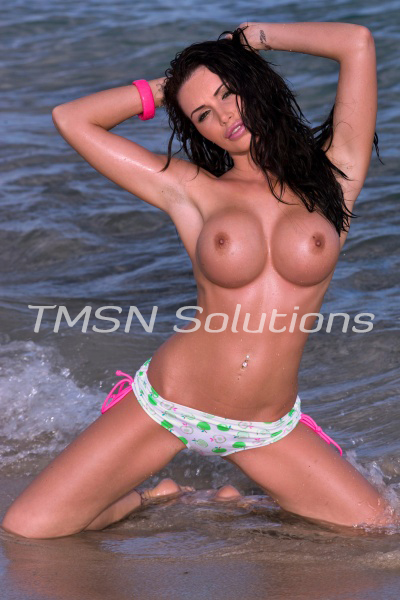 Sadie        1-844-332-2639 ext. 222
Watching my husband on his knees, unknowingly suck on of his teammate's cock, I shook my head at the crazy, journey that had started that day back at the baseball field. All because "Kylie" had left a case of beer in his trunk. I surely never imagined that offering to go get it would end with all of us here.
I opened the trunk to get the case of beer out, and saw a little triangle of pink and white stripes sticking up from under a flap of the carpet. I knew those stripes instantly, they were VS stripes. Of course I had to see if I was right. So I pulled back the flap and exactly as I had thought, it was a Victoria's Secret bag. Naturally I pulled the bag over to me and looked inside and it was just full of lingerie. Panties, slips, a teddy and a babydoll and way at the bottom was a dildo, a butt plug and some nipple clamps. Now, knowing what I know there was only one conclusion I had found Gary's sissy stash.
I put it all right back how it had been and carried the case of beer back to the cooler. Gary took it from me thanking me for going to get it. 5'11", athletic muscles, with that thin, lithe, runner's body, his hair is a little long, and those dark lashes of his, (which now I have to wonder if that is mascara/eyeliner stain) yes I could see it. "What?" he asked me.
I didn't realize I was standing there smiling at him. I couldn't help myself. "Oh nothing, you just look very PRETTY today." I said. He blushed and then laughed "Pretty?" He looked around to see if anyone was around. "Yes, pretty, but you do have to be careful about those pantylines." I looked down at his pants which really had no visible pantyline. His hand reached back to feel for the non-existant line, but it told me that he was wearing.
I laughed. "Sadie, please you can't tell anyone. They would never talk to me again. You found it didn't you. Damn it! I knew I should've got it. Please I'll do anything just don't tell anyone." I laughed more. Well that drew everyone's attention to the fact that the beer was back and soon we were surrounded by people so I never really had the chance to tell him whether or not I would keep his secret.
Days went by, then one night there is a knock on my door and its Gary. He looks awful. He tells me that he has to know what I'm going to do. I invited him in to talk about it. We talked about how he had always loved to wear women's clothes. His mom's panties, his sister's dresses, his grandma's pantyhose. He had never told anyone. I could see the relief on his face as it all poured out of him. Then he noticed that I didn't seem to be shocked. I told him that I had met a lot of men who shared his love of crossdressing.
Once that hurdle was crossed, the next confession. It was more than just the dressing. He really wanted to be a woman. Of course he knew that he could never be that but he loved the idea of being sissified. I sat back and lit my cigarette. "Stand up." He startled for a moment. A look passed between us. A silent communication of the fact that I knew what he was saying and was going to give him exactly what he wanted. Slowly he stood up.
He stripped and I saw that his cock was average. A little on the small side perhaps but larger than some. Of course he was hard, so I had to wonder if he was a "grower" or a "show-er". He was wearing a pair of lovely silky magenta panties. A wet spot was marring them just to the inside of his hip. "What do you want me to do Sadie? I'll do anything." He got down on his knees in front of me. "Please, don't tell anyone."
Well, that was the first night that I dressed him up and taught him the basic demands of being a sissy of mine. Over the next few weeks his sissy education continued. I experimented with different looks and styles, it was a lot of fun.
MM, sorry, I think they need me. I better get back to them. But check back later and I'll tell you the rest of the story.
Sadie
1-844-332-2639 ext. 222
www.sissyphonefantasy.com/sadie/