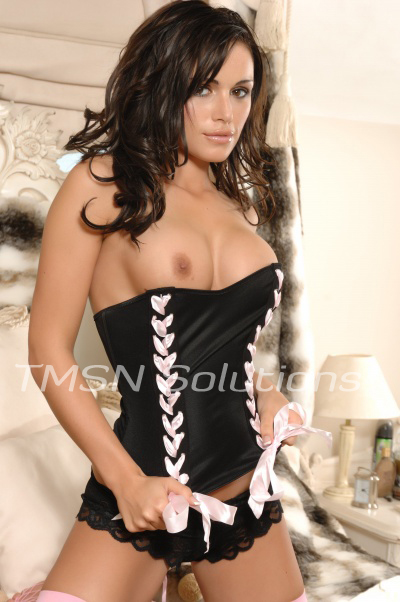 Sadie         1-844-332-2639 ext. 222
We walked into the lingerie store looking like any normal couple. Any normal man and woman. We wondered around the store for a little while looking at some panties, and then at some other lingerie. The sales girl came over and asked if we needed any help. I told her that we were looking for something for you my sissy slave. She looked immediately at you. Surprise registered on her face as she took in your very ordinary, clean-cut look. Not wanting to lose the sale though, she nodded and said she had a few things we might like.
She guided us to a sexy little teddy, a beautiful royal blue with black lace, high cut legs, deep plunging neckline, and a thong back. I held it up in front of you, in front of the sales girl, trying to get a sense of what it would look like on you. A different color was chosen, this time a vivid pink and bright yellow, very eye-catching. A woman shopping nearby watched from the corner of her eye as we added bright pink fishnets. I asked the sales girl if you could try it on.
The lady shopping near us laughed out loud. Everyone in our little group turned to look at her. She apologized, but then asked if I was really going to make you put this tiny little bit of lingerie on. I told her I was, and explained how you were a sissy slave, and it was your obligation to do such things whenever I demanded. She said she had never heard of such a thing. I laughed and said she was welcome to watch the show. She gladly accepted the invitation.
You were given your outfit, and sent into the dressing room. The salesgirl, the lady shopper, and I sat on the couch awaiting your appearance, discussing the finer points of your service. Yes, you cleaned the house, cooked the meals, and any other thing I told you to do. The natural question of whether or not you were gay obviously came up. Not at all, I assured her. You wouldn't be my slave if you were gay. But do you entertain cock.. but that's a different story. We all had a nice laugh about that.
Then you came strolling from the dressing room looking like the fun slut you are. They both laughed at how girly you were as you modeled the teddy. That's when they both got into it. Both rushed out into the store to choose more lingerie for you to model for us. By the time we were done the entire store was gathering around the changing rooms waiting for the next outfit. Watching you walk the make shift catwalk in front of the dressing rooms. Cheers, catcalls, and whistles filled the store as you worked it like the sissy supermodel you felt like. What else could I do but invite them all over to the house where you would serve us all?
Sadie
1-844-332-2639 ext. 222
www.sissyphonefantasy.com/sadie/