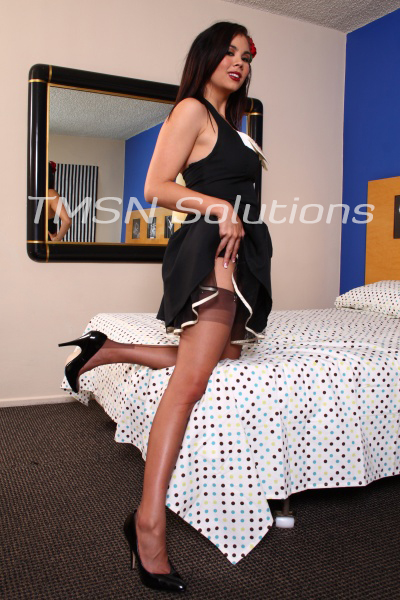 Gianna 844-332-2639 ext 355
Catch up on our favorite office temp's forced feminization situation by reading Part One of this story. Kathy and Alicia were sitting in Cynthia's office listening to her ramble off all the repercussions that she could take if they don't handle this appropriately. "Aaron, I mean Kathy, you do realize how hard it will be for you to find another job if I speak to your Temp Agency? I could tell them that you violated company rules and entered the office after hours. I could also tell them that you've been using our facility to conduct inappropriate workplace behavior by crossdressing and goofing around. You're lucky that you're a good worker… otherwise I would have no choice but to terminate you."
Kathy was sweating her make-up off. She had no idea that they would get caught and she'd risk losing her job! Cynthia lowered her stylish glasses and stared at Kathy's gorgeous outfit. Keeping Kathy on the team would be good for marketing. Cynthia was already daydreaming of using Kathy as an example of workplace inclusivity at the next regional HR Conference. "Kathy, I'll be honest and tell you that other companies are nowhere near as accepting as ours. If you want to be a woman then you'll have to do it here. You have to fully transition to ensure that you don't waste time at work worrying about this. Instead of sneaking into the restrooms to change into female clothing, you'll simply have to dress like a woman every day you come to work!"
Kathy looked nervous. This seemed so drastic! Cynthia picked up on her apprehensions and said "If you don't agree with me then I guess you can apply to McDonald's. I heard they're hiring. Times are tough right now and it would take you a very long time to find an office position that's as good as the one you have now."
Kathy realized that she is trapped. It took the Temp Agency forever to find her this job. She didn't want to go back to spending hours a day applying for jobs and checking with the disgruntled Temp Agency employees. She knew she had to become a woman in order to keep her job here. "Now, I don't want to disrupt our current workers by telling them that Aaron the Office Temp is now Kathy. I can only imagine the gossip that will take place. To keep things as calm as possible, you're going to pretend to be a new employee. Understood?"
Kathy nodded. She couldn't believe that she was agreeing to do this… but she really wanted to keep her job. "Temps come and go, so the other employees won't bat an eye. Since I just received your verbal agreement, I'm going to request a New Employee ID badge and log-in credentials for your computer. Please fix your make-up so that I can take a photo for your ID. I want it to be ready when you come to work tomorrow." Alicia pulled out a make-up wipe and handed her the tube of lipstick that she let her wear earlier. Kathy wiped away all the smudges and re-applied her lipstick.
Cynthia made her stand up against the wall and took her picture. Kathy saw her photo appear on Cynthia's computer. She couldn't believe that she was going to be a woman 24/7 in the office now.
After having Kathy sign the new employee paperwork, she and Alicia were free to go home. Once they exited the building, Alicia looked at Kathy and said "Well… at least you still have a job… and now you're a permanent employee! Not just a Temp! You're going to have to pretend that you don't know anything about your position when you come back tomorrow. The other ladies can't know about this or else they'd have a fit!" Alicia took out her make-up bag and handed it to Kathy. "You can keep this. We're luckily the same skin tone so you can use these products to get ready in the morning. You've seen me apply your make-up a few times so you can start practicing on your own."
Alicia dropped her off at home where Kathy ended up tossing and turning all night. She was SO nervous to go back to work tomorrow. Alicia helped her buy all these clothes, wigs and gifted her make-up. Yet, she still felt unprepared. She laid out a nice outfit to wear tomorrow: nude pantyhose, white blouse, gray pencil skirt, and black heels. Alicia also made her buy fake press-on nails so she glued those on too to make it look like she had a nice french manicure. She followed the routine that Alicia taught her. Shower, shave, moisturize, wig, make-up, clothes. It took her a little over two hours to get ready. Way longer than her male morning routine. It was time to head to the office. Cynthia was already waiting for her outside when she pulled into the parking lot.
"Hello, Miss Kathy! It's a pleasure to meet you! I'll let you in since your New Employee Badge is upstairs in my office." Cynthia thought Kathy's outfit was nice but a little riskier than what most of the other women would wear. Her skirt was a little too short and her white blouse was almost see-through.
She followed Cynthia upstairs and saw the other women checking out her outfit. Some women even giggled as Kathy walked past them. This made Kathy extremely nervous. What was wrong with her outfit? Alicia nervously watched Kathy enter Cynthia's office and shut the door. She knew that Kathy had to go through New Hire Orientation before she was taken to her desk.
Another co-worker named Michelle came up to Alicia's desk. "Who's the new girl? She's dressed kind of… sexy… not super appropriate for the office. Who does she think she is walking in here like that? I bet she's going to be another bimbo on the Marketing Team. All those girls do is take selfies and kiss the Executive's asses." Alicia gulped. She wasn't sure what to say since she was the one that helped Kathy pick those clothes out. "I think she's taking on a permanent Administrative role. I heard they were tired of hiring temps." Michelle rolled her eyes. "Great, another stupid Admin Assistant. JUST what the team needed. I better head back to my desk. I'll talk to you later!"
A few hours passed before Kathy was finally released. She was taken to Aaron's old desk. "Kathy, this is your new desk. Log in using the credentials that I gave you in your New Hire paperwork. You'll spend the rest of the day completing online modules for your training. Call or e-mail me if you have any questions."
Kathy remembered being mostly ignored by the other ladies when she was Aaron. This didn't seem to be the case now because a few female coworkers surrounded her desk within minutes. "Welcome to the team, Kathy! We just got the company-wide email announcing your arrival. You'll be seeing a lot of us!" Kathy stood up to shake all of their hands. One of them said "Wow, pantyhose on your first day. You must be quite the woman. Most of us wear leggings or slacks. Maybe we should learn to be more feminine like you!" They all laughed, letting Kathy know that would never happen. Kathy wasn't sure what to say since she's only been a woman in public a few times.
"We're so glad you replaced our old Temp. His name was Aaron and honestly, he was kind of awkward. We told Management that we preferred a female Temp but they didn't listen. But he didn't last of course… so now we have you!"
Kathy politely smiled and thanked them for dropping by. Before leaving, her Team Lead said "I know you have training modules to do but we're honestly so swamped. Can you help us with a simple Data Entry project? We just need you to enter these forms into the blank spreadsheet that's already saved on your Desktop. If you have questions, just ask one of us." Kathy knew she had to complete the modules but didn't want to disappoint her team on her first day. She remembers how catty they have been in the past. The stack that she was given was huge. This was definitely going to take all day. She had to take longer to pretend that she was truly new.
Kathy took twice as long since she didn't realize how hard it would be to type with longer nails. The fake nails were glued on very well so she couldn't pop them off.
To make things worse, she accidentally ripped her pantyhose when she bent down to pick up a piece of paper she dropped. She needed a break so she went into the restroom and sat in the stall for a bit. She heard some of her teammates walk in. They always take a short walk around the building for their afternoon break. "Ugh, Kathy is SO slow. Aaron was weird but he would have had that project done in an hour. It's been two hours and she still isn't halfway through the stack of forms. Also, wtf is up with her outfit?! This is an office, not a cocktail lounge. It seems like she cares more about her pantyhose than getting her work done."
Kathy sulked in her stall. She couldn't believe how terrible she was doing. Thankfully, she heard Alicia's voice stand up for her. "Girls… it's her first day. She's not used to our system yet. I also thought she was dressed quite nicely. Maybe it just seems over the top to you all since you wear sweaters and slacks every day. Just give her a chance. I'm sure she'll be fine." The other girls scoffed. Another co-worker replied with "Well she better pick up the pace if she wants to stick around. I'd rather have a dumpy-looking smart girl than a pretty dumb one!"
Kathy sat in her stall and realized that she had to do much better.
She didn't realize how much harder it was for women in the workplace. Your appearance and your work ethic are constantly being scrutinized. When she was Aaron, she was left alone and could focus on work. Now, she had to be a pretty girl and work hard. She took the extra pair of pantyhose out of her purse since Alicia told her to always have an extra pair on hand. She removed her ripped pair and tossed them in the bin and rolled on her new nylons. With her hosiery snafu fixed, she walked out of the restroom ready to show her team the real woman that she could be. She isn't going to give her coworkers any more reasons to gossip about her. It's Kathy's time to shine…
Gianna 844-332-2639 ext 355
My Profiles