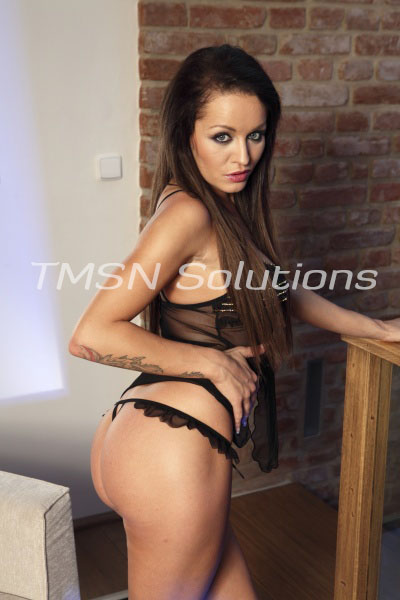 Sinful Serinda 844-33-CANDY (844-332-2639), ext. 394
Well hello my dutiful little sissy maid.  Thank you for welcoming me home after a hard day's work.  I see you've been busy keeping the house clean and tidy like a good little girl.  Everything looks so tidy – I can tell it was kept up by a proper young lady.  I'm so proud of you!  And now that Mistress is home I'm going to have myself a drink and relax for the night and… oh dear.  My dear sissy maid, it looks like you've been going through Mistress' panty drawer.  I don't leave my panties hanging off the drawer like this.  Hmmm, I think a punishment is in order.
You naughty sissy maid.  You know, I've given you a great honor in cleaning my house – the least you can do is not go nosing through my drawers.  And just why were you being a nosey sissy, hm?  Were you wanting to know how pretty frilly panties feel against your fingers?   I'll bet you were just aching to slide them up your calves and hips so you can feel them rubbing against your skin.  My naughty sissy maid has to know her place.  She has to learn it's not proper to dig through items she's not fit to wear yet.
My naughty sissy maid has to know her place.
I must find a fitting punishment for you.  Should I make you clean the whole house again from top to bottom wearing nothing but a chastity cage on your clitty?  Oh!  I know!!  I have some estrogen treatment here.  Now, I know these are supposed to be taken orally, but I have a better idea.  I think we're going to see if you have better absorption on this if I have them shoved up that tight little boi pussy of yours.  Normally I'd have a nice big butt plug in place to keep it all snug in there, but not today.  Your job is to clean Mistresses house – bending over and dusting and cleaning without having a single pill slip out of your boi pussy.  And if you fail in your task, then I'll just have to think of something even more devious!  Now get to work, slut!
Serinda
844-33-CANDY
(844-332-2639)
ext 394
http://www.phonesexwhimpers.com/serinda