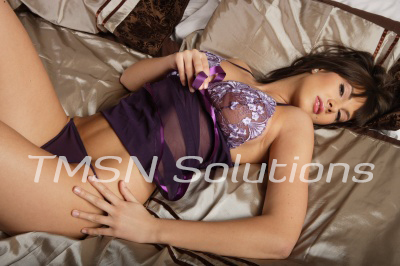 *LUCY*  844-332-2639 xxx- 221
I know how much my little sissy sluts aim to please and love lingerie. I often ask them what their biggest fantasy is and it always goes something like this… I'm in the dressing room of my favorite lingerie shop. One of my most passionate lovers has brought me here. I wait in the room, while he shops and brings me the items he wants to see me try on. He brings two corsets, one red, one purple. Along with black fishnet stockings, and black patent leather fuck me shoes. Then a silk nightie with a matching peignoir. They are royal blue. And finally, a lilac gown that is completely transparent. He says I can keep whatever fits. I know they'll all fit, because he's excellent at sizing things up.
I walk out of the dressing room, wearing the purple corset, stockings and heels. He's seated in a chair, right outside the dressing room. As I approach, he licks his lips. He pulls me onto his lap and slips his finger into my pussy and then licks it clean. The store is nearly deserted. I notice a man hiding behind the racks, off to the side. He is watching. My lover sends me back to try on the red corset. A moan then escapes his mouth when he sees me with it on.
He pulls me onto his lap again, slips three fingers into my pussy and makes me cum. The stranger is still watching. When I return to the dressing room, my lover accompanies me. He wants to dress me this time. He slides the beautiful blue silk on me and then sucks my nipples through the fabric. I say, "I want this." He says, "It's yours." He undresses me, getting on his knees to lick and suck my clit and making me cum two more times. He pulls the lilac gown over my head and says, "I'm going to go sit in my chair. You come out and let's give that stranger a show."
As I walk toward him, he stands and pulls me close, kissing me deeply. He runs his hands all over my body, squeezing every inch of me. Playing with my nipples and pinching them. He reaches down, putting his hand up under the gown and plays with my pussy. He kisses me again while he finger fucks me hard. I can't stop moaning as I cum over and over. I look over at the stranger and he is unabashedly watching and now seems to be playing with himself.
We keep eye contact as he keeps stroking his cock in his pants and I see him cum at the same time as I do. My lover whispers to me, "I'm so glad he got to cum. You are truly so beautiful and you deserve all of the attention. Now, let's have them wrap up these items to take home and go get some real fucking done." I never argue with a man buying me lingerie.
Lucy xx
Come find me at – 844-332-2639 xxx- 221
http://sinfullysexyphonesex.com/lucy/
http://phonesexcandy.com/lucy
Read these my lovers
http://phonesexmamas.com/author/lucy/
http://phonesexmamas.com/author/lucy/
http://sissyphonefantasy.com/author/lucy/
http://phonesexcandy.com/author/lucy/
http://sinfullysexyphonesex.com/author/lucy/
http://phonesexcandy.com/author/lucy/