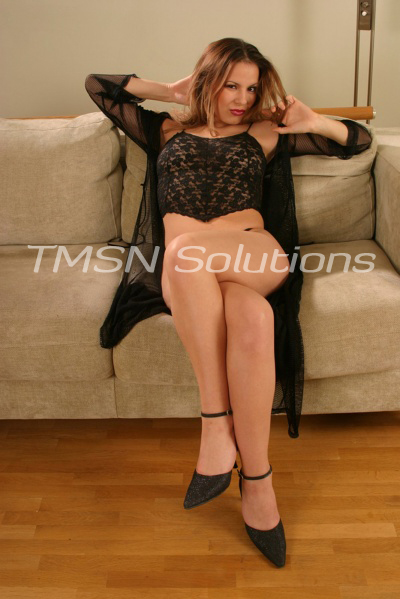 MONA * YOUR EROTIC PHONE SEX OBSESSION * 1-844-332-2639 EXT 316
Forced to suck cock for Mistress Mona
He was nervous. Mistress said he would be forced to suck cock tonight. He had been in sissy training with Miss Mona for only a few short months. But he had come so far. And he even told Mistress he wasn't gay. He just liked the panties and serving her. But she'd been whispering in his ear for weeks that soon he'd be a good little cocksucker too. He'd laughed it off but it also sent a shiver of sexual excitement down his spine whenever she mentioned it.
Perhaps he knew when asked for sissification that this is how it would end up. He felt his own cock begin to stir in his silky panties. His heart beat faster when he heard her knock on his door. He was dressed in the lingerie Miss Mona had bought him and he applied his red lipstick expertly. He opened the door and found his Mistress standing there. And behind her, a tall, effeminate-looking young man with a bulge already visible in his tight pants.
Sissy cocksucking
"Hello pet, this is Benjamin," Miss Mona smiled at him. Benjamin looked him in the eyes, rubbed his groin and licked his lips. Mona led both men upstairs to the bedroom. First, she positioned Benjamin in a chair and told her sissy slut to watch. "Do not touch your cock unless I say so," she purred. She expertly took out Benjamin's large dick and began working it over with her mouth. The young man groaned with pleasure and his erection grew to a fat, nine inches.
"Are you ready to join me, pet?"
"But, but I'm not gay Mistress," he stammered.
"Ha! Look at that hard cock and the way you've been licking your lips. Come, here now and share this cock with me," Miss Mona ordered.
He got up from the bed and got on his knees beside his mistress. This cock was so big. But he had no choice. So he leaned in and began to suck on the head. Slowly he licked and sucked, taking the big cock deeper in his mouth each time. Soon, he was milking that shaft with his hands while he sucked as if his life depended on it. And when that pretty boy shot a huge load, this brand new cocksucker swallowed every last drop.
What's your sissy phone sex fantasy? Do you need a sensual mistress to force you to suck cock? Or perhaps a phonesex training session tailored to your specific brand of kinky sissification? Call me, pet. I'm ready to indulge your specific sissyboy fantasy.
MONA * YOUR EROTIC PHONE SEX OBSESSION * 1-844-332-2639 EXT 316
https://phonesexcandy.com/mona/