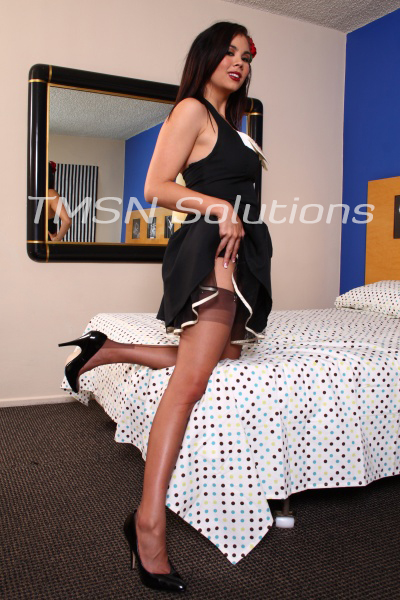 Gianna 844-332-2639 ext 355
Aaron has been secretly working at my Aunt's floral shop for a while now. He works some weeknights and weekends to give him a chance to be more feminine in his downtime. Aaron goes by the name Kathy while he works at the shop. My Aunt expects him to dress classy and beautifully for every shift. This means a fitted dress, nice jewelry, pantyhose, and sensible heels. Kathy's hair and make-up had to be flawless too. All of this made her totally unrecognizable in case someone she knew came to the shop. Thank goodness for this because out of all the people she knew, Kathy's mother walked in one Saturday afternoon.
Kathy immediately feels nervous seeing her own mother enter the floral shop. She has no idea that Aaron cross dresses and works here! She thinks he's working on a volunteer project for school!
Her mother walks in and smiles once she sees how gorgeous and feminine Kathy is. "You hardly ever see girls in nylons anymore… but this style really suits you! I remember wearing nylons all the time growing up! I would make my daughter wear them but I had a son instead." Kathy can't believe that her own mother doesn't recognize her as Aaron and thinks she's a real girl…
"Your bra straps aren't showing either! I see so many girls these days showing too much of their bra! It's disappointing to see how the current fashion trends have become so trashy and revealing. What happened to modesty?! I must say… you are just the most beautiful young woman that I've ever seen! Everything about you is just so well put together!"
Kathy is SO nervous that she makes her voice even higher before responding… to help her remain undetected.
"Thank you Ma'am… what kind of bouquet would you like?" Her mother admires the tulip floral print on Kathy's dress and uses it to make her selection. "I'd like a multi-colored tulip bouquet. I'm picking one up for a friend at work to congratulate her on a recent promotion." This is when my Aunt intervened because she could see how nervous Kathy was. Her perfectly painted fingers were trembling while she was grabbing the vase for the bouquet. "Kathy, could you go in the back to get the fresh tulips I brought in yesterday?" Kathy welcomed this temporary escape from her mother. As she walked towards the back room, her mother complimented on how well she walked in heels for someone so young.
My Aunt took this opportunity to thank Kathy's mother for being so complimentary and understanding. "You know Miss… Kathy used to be a boy!
I gave Kathy this job so she could get out of the house and really immerse herself as she makes important decisions about the future." At this point, a mix of female and male customers enter the shop. Some guys are there to buy flowers for their dates that night but stop when they see Kathy walking back towards the cash register. Everyone can tell that they're smitten with her. Could anyone blame them? Kathy is absolutely perfect.
Instead of playing it cool, Kathy's mother begins asking what feels like a million inappropriate questions. "How often do you get to be a girl? You're so lucky to be able to work here with supportive women. It must be such a pain to switch back to being a boy at the end of the day since you're wearing make-up and have painted nails! You're so brave! I never had a daughter, only a son, so I missed out on teaching her how to get all dolled up like you are!"
My Aunt tries to interrupt her during her questioning since there were other customers waiting in the floral shop but Kathy's mother wouldn't quit…
"Your breasts look so adorable! They're the perfect size for your frame! What do you put in your bra to make them look so… real?!" My Aunt couldn't believe that she just said that. "Miss… I'm sure Kathy doesn't feel comfortable discussing those kinds of things… especially since she's in the middle of her shift…" Kathy was blushing now. "What?! I can't ask about her bra? It must be a high quality one too…"
My Aunt becomes more agitated by her daftness as she sees the long line of impatient customers growing. The women in the line seem surprised since Kathy does look like a real girl! The boys look ashamed of crushing so hard on a girl that's really a boy! Kathy's mother still doesn't pick up on how intrusive and rude she's being. Most people like Kathy's mother think they're being "supportive."
Transwomen want to be seen as real women, not boys playing dress-up.
Alas, the cringiness carries on as Kathy's mother says "I never would have been able to tell you were a boy! Don't worry, your secret is safe with me. I will do anything I can to help you… although I can see you've got it down pretty well already! Speaking of boys… I should call mine to make sure he knows I'm running late." Kathy's entire body tensed up when she realized that she forgot to put her cellphone on silent. It felt like time froze when she watched her own mother standing there calling her.
Kathy, unfortunately, has a very specific ringtone for her mother. The ringtone is a snippet from the song Time to Say Goodbye by Andrea Bocelli and Sarah Brightman because she usually has to say goodbye to her friends when her mother calls. Now, the ringtone would signify that she would be saying goodbye to her manhood. The song started playing from her purse underneath the counter which made her mother's jaw drop. Now we'll get to see just how supportive she really is.
Gianna 844-332-2639 ext 355
My Profiles