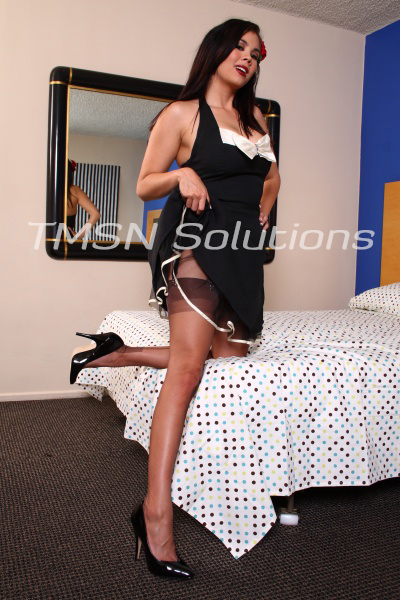 Gianna 844-332-2639 ext 355
Aaron just started a new office job that's primarily full of women. This made him nervous since he's never had much luck with impressing them. Thankfully, one coworker seemed very fond of him and glommed onto him right away! Her name was Clarice and Aaron would eventually discover that she has a strong passion for forced feminization.
She seemed relatively normal at first. Clarice insisted that they eat lunch together every day. She was an averagely pretty girl with long blonde hair but the other office ladies teased her for dressing in an old-fashioned manner. She always wore pantyhose, long skirts, and baggy Grandma-esque sweaters. I guess you could say that she is the outcast in the office so she is desperate to befriend anyone new that would give her the time of day.
Clarice always caught Aaron admiring the other ladies in the office. This made her jealous because she wants him all to herself!
She called him out on it during lunch one day. "I always see you staring at the other girls. What do you like so much about them Aaron?" He nervously stuttered as he told Clarice that he just really loved their outfits. The sleek pencil skirts, shiny pantyhose, and gorgeous high heels. Some of them even wore beautiful dresses! "Well, that makes sense Aaron. Glad you appreciate their sense of fashion! You know, underneath all that beauty… typically reveals some level of discomfort. Tight bras, thongs that ride up your butt, high waisted pantyhose that hurt when you sit for too long…
Guys never think about that. They just fantasize about how hot it looks to wear pantyhose and heels. Most of them don't understand how annoying it is to wear them until they try it out for themselves!"
Clarice was starting to make Aaron uncomfortable. She was clearly upset so he politely told her that he had to get back to work so he could escape the awkwardness. He sat at his desk and breathed a huge sigh of relief. He was starting to see why the other girls at work avoided Clarice. She was unnecessarily intense.
He tried to log in to his computer but he kept getting an incorrect password error message. He called IT and for some reason, his phone automatically went into speaker mode and wouldn't switch back. A female voice purred on the other end of the line which surprised him. Most IT employees were male! He explained the issue that he was having and the girl on the phone just giggled.
She said out loud for everyone around him to hear that his password was just changed a few minutes ago. "Are you sure you don't remember it? I'm not supposed to tell you but it will be faster if I do. You changed your work log-in password to PANTYHOSE!"
Aaron blushed as he heard the girls around him giggling. All of a sudden, his boss appeared at his desk. She was a tall, mature, and gorgeous woman. "Aaron? What is all this commotion? Do you not realize the rest of us are trying to be productive? Why are you on speakerphone? Please use the normal mode so everyone else around you can focus!"
Aaron started to explain to her but she cut him off. "No need to explain. Just please be considerate of others going forward. Also, how are you doing on that excel spreadsheet that I asked for last week? I thought you'd have it done by now. Please send me whatever you have by the end of today!"
He quickly typed in "pantyhose" and was able to get in. Aaron never changed his password and would have never picked that word if he did change it! Things were beginning to feel odd in the office. Like someone was deliberately messing with him.
He logged on and sank in his chair when he couldn't find the excel file that his boss wanted. It was nowhere to be found. He even checked the Recycle Bin. Aaron was too embarrassed to call back the IT Lady again. That file took days to work on and he still had more to add before he had to send it to his boss!
To make things worse, Aaron's office crush came up to him. Her name was Mina and she was a beautiful Japanese woman with long black hair. She always looked perfectly put together. 
"What's wrong Aaron? I could hear you rustling around. Are you okay?" Her kindness made him melt. He didn't want to seem desperate nor stupid so he just lied and said he was feeling restless from all the hard work that he was doing. All of a sudden, hundreds of windows started popping up on his computer. The windows contained sexual images of girls wearing pantyhose and nothing else. This made Mina gasp and awkwardly walk away in fear that she'd be associated with Aaron's internet browsing perversions.
Aaron yelped and tried to close them but more kept popping up. He tried to open Task Manager to stop whatever program was causing this but it wouldn't open. 
Mina secretly messaged their boss and told her about what she saw on Aaron's computer. It only took a few seconds before Aaron's boss was looming over him. "Aaron, you need to come to my office. Now!" He knew that he was in deep trouble. It took him forever to find another job and now he was back on thin ice. Will Aaron get fired or will he have to endure more of this strange office terror? Find out in Part Two…
Gianna 844-332-2639 ext 355
My Profiles