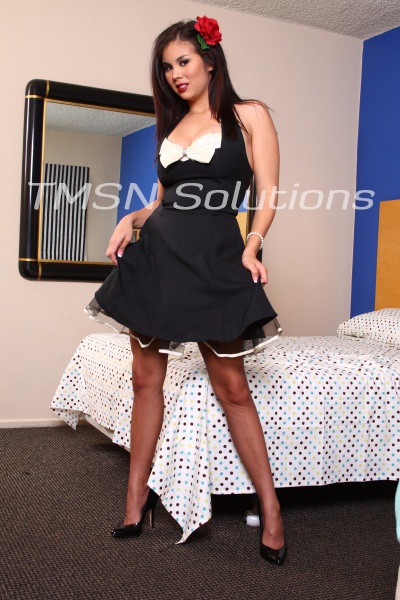 Gianna 844-332-2639 ext 355
Make sure to read Part Two of this thriller story before diving in. Aaron woke up feeling groggy and confused. He couldn't move his arms or legs. It seemed like he was in a medical room. A beautiful Nurse walked up and removed his mask and said "You have been recovering for awhile. You won't feel comfortable for a few weeks but I commend you for taking your feminization so seriously!" Aaron seriously couldn't remember where he was or why he was there. He looked down and saw that he had a new pair of C-Cup breasts!
He was delirious and could barely talk. Whenever he tried to speak, gentle high pitched whispers squawked out of him. This made the Nurses giggle and remind him to rest. "Most new women take weeks to adjust to all their new… assets. Dr. Femme will be in to see you shortly. Just rest. It's not like you can leave anyways! You're strapped to the bed!"
Dr. Femme entered the room and smiled at Aaron. "Hi, Aar- I mean Kathy! Clarice submitted your name change request to us. You're lucky to have a friend that is so supportive of your feminization!"
"She contacted me and begged me to get you in last minute and thankfully we were able to successfully give you top and bottom surgeries. It took over 12 hours but we're happy to say that everything went fine! You will need a few weeks to heal but Clarice said you'll be staying with her."
Aaron couldn't believe this. He vaguely remembered her coming over for drinks but couldn't remember what happened after that. This all felt like a dream. Clarice popped her head in the room to check in on them. Dr. Femme gave her a hug and let them have some time alone. Aaron had so many questions but Clarice told him to drink up and held a coffee mug up to his lips, forcing him to guzzle down whatever was inside it. It tasted bitter and strange.
After consuming the liquid, he started to feel sleepy. He heard Clarice telling him how he wanted this feminization. "You don't remember Aaron, but you were begging me to turn you into a woman. You wanted to be called Kathy and told me now was the time to get your sex-change surgeries since you're no longer employed. 
Aaron could only hear bits and pieces of what she was saying. Did he want this? That sounded confusing. This didn't seem like something he would tell her. A few hours passed after Aaron fell asleep. He woke up in another strange place. It was a pink room with a make-up vanity and fashion posters hung up on the walls. Clarice entered the room after she heard Aaron wake up.
"Hi, Kathy! You're going to be staying with me for a while since I'll be helping you adjust to your new life as a woman."
"I went ahead and cleared out your old apartment and gave the keys back to your landlord. It doesn't make sense to live there anymore since I'll be taking care of you! It'll be so nice having a new girlfriend staying with me. I'll make sure you pass extremely well! Once you heal up, you're going to be practicing the ins and outs of womanhood on a daily basis!"
Aaron felt trapped. His new feminine body felt sore as he just got home from having his surgeries. He could not escape. He is definitely going to be a woman forever. Stay tuned to find out how insane Clarice gets as she facilitates Aaron's feminization training… Kathy looks the part, but can she act the part too?
Read Part Four!
Gianna 844-332-2639 ext 355
My Profiles
https://phonesexcandy.com/gianna