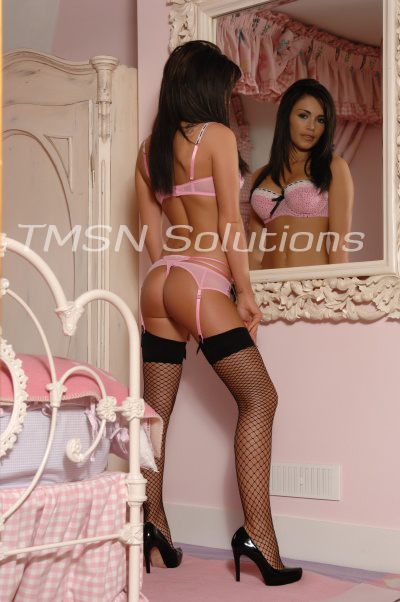 Sadie
1-866-239-2972              1-844-332-2639 ext 222
With the new consciousness implant, I heard my husband's voice inside my head. The fullness and completeness of his personality existing in my body alongside my own was something I was going to have to get used to. His body was gone but he continued to live on inside of me.
I found myself masturbating more as he became acquainted with the new and different sensations of sexual pleasure in a female body. Masturbation was our sex. A mind fuck took on a new meaning as we shared intimacy of being and mutual pleasure of one body.
But the day had finally arrived where I couldn't take it any more. I needed a man. A physical, warm, hard fucking man. There was no way to hide what I was doing with my husband living in my body. He was not at all happy with this idea. He felt as if I were forcing him to be gay. He would have to endure the fucking as much as I would. But in the end I didn't care, the need for cock won out.
He was unusually quiet as I got dressed. I think being able to observe the ritual of preparing for a date was intriguing him. The shaving, the smell and feel of the lotion moisturizing our skin, the choosing of just the right lingerie, picking the perfect outfit, putting on my make up, choosing a perfume. Looking in the mirror it felt like old times when he would look over my shoulder and tell me how beautiful I looked. Only this time I could feel his pleasure as he looked at me. The lust he felt the pride as my hand moved over the curves of my body. But there was something else.
I smiled looking into my own eyes but speaking to him. You are enjoying this. He denied it. But I could feel it he was enjoying sharing my body at its most feminine. Again he went very quiet. Through dinner and drinks he didn't say much except for the odd sarcastic remark about my date. But even in his silence I could still feel his excitement. It was an anticipation almost.
As my date kissed me, I heard him sigh almost moan. The feel of my dates arms, his bigger body surrounding us was exciting my husband. The thing about sharing a mind and body is there are no secrets. Our date's mouth moved to our neck and his hands felt our breasts. Something my husband had yet to experience the feel of another's hand on our breasts. I felt him move our hand down to grab our date's cock. He was hard and ready. Such confusion filled my husband's mind. The pleasure our body felt as that hard cock pressed against us , kissing and stripping our body, combined with the years of being a completely straight man were an interesting mix.
I felt him recoil at the feel of the cock pressing into our mouth, and just a moment later I was nearly swamped with the double strength of our combined enjoyment of feeling him grow harder and begin to fuck our face. Why didn't you tell me.. he whispered with wonder. Just wait … I told him as we slid up to mount our lover. Sitting on top of this sexy stud feeling his hard cock fill our pussy was too erotic. I heard my husband's moan come through my lips.
It was my turn to sink back and let him come to the forefront. He began to take the reins so to speak riding this man beneath us. He exulted in the feel of the power of being on top of this cock.
It was erotic and thrilling and a complete mind fuck to so intimately experience and witness my husband's transformation into a real cock loving woman. I do believe that we may just become a big slut after his first taste.
Sadie
1-866-239-2972
1-844-332-2639 ext 222
www.sissyphonefantasy.com/sadie/