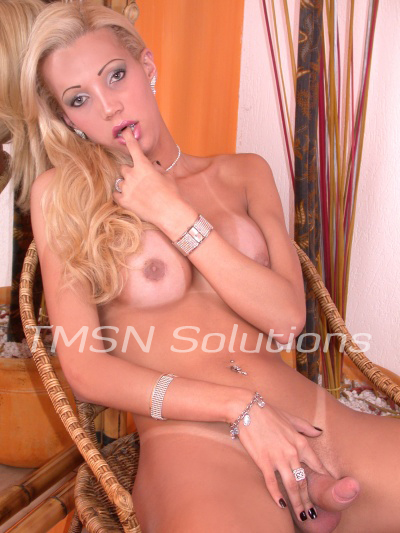 TS Alexus 844-332-2639 EXT 349
I know this dirty old perv who loves to watch when I bring home a sissy boy. I guess you could say it's as if I put on a personal performance, like a live porno just for him. He has built a two-way mirror in one of the guest rooms so that I could put on a show for him without the other party even knowing.
This weekend I found this delicate young man who'd never been with a shemale before. I took him back to our special room to play with me. The lights were dim as we sat on the bed to make out. Our tongues were twisting together, and his hands were eager to get under my skirt. However, I wanted to slow my new toy down so I could really put on a show for the old perv.
A Personal Performance
I told him that it really turns me on when a man wears cute lingerie before we fuck. He was nervous and unsure but finally agreed if it were the only way, he'd be allowed to have my cock. I knew that perv behind the glass was stroking himself as I dressed the sissy in one of the perv's favorite outfits, a tiny little pink corset and lace french cut panties.
Next, I dressed in nearly the same outfit, only my set was soft yellow. It compliments my tanned skin so beautifully, and my cock was throbbing out of the high-cut panties. And so were my new friends. His cock had already drooled a wet spot into his panties. I curled a finger and asked him to get on his knees. He was shaking with excitement as he peeled my panties down to reveal my cock and kiss the tip.
I put my hand on the back of his head as he sucked my cock into his mouth for the first time and looked directly into my reflection, hoping the perv was enjoying his personal performance.
TS Alexus 844-332-2639 EXT 349
https://phonesexcandy.com/alexus/